The Honda Prelude has returned as a hybrid-powered coupe
The sports coupe sector has withered away in recent years, but Honda is pinning its hopes on a two-door Prelude hybrid that could make production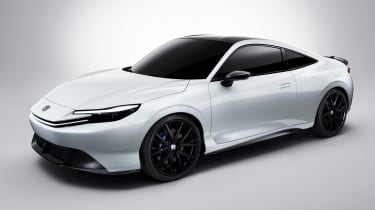 'Extraordinary excitement you've never felt before' – that's what Honda CEO Toshihiro Mibe claims that the new Prelude will offer to customers. It's only a concept for now, but the Prelude is a precursor to Honda's new era of electrified sports cars and hot hatchbacks, and a production version could be on the horizon. 
Honda hasn't provided any technical details to supplement its bold statement about the new Prelude hybrid, but the CEO did mention that customers should 'keep expectations high' for the model, suggesting that a production version is planned. 
The Prelude Concept certainly doesn't look like a fanciful show car in its current form. The classical coupe proportions are quite conventional, and most of the details – from the light units to the door mirrors and alloy wheels – appear showroom ready. It even wears a set of Continental SportContact 6 consumer tyres. 
'Honda has always been committed to creating sporty vehicles,' said Mibe. 'And the word "prelude" means an "introductory or preceding performance." This model will become the prelude for our future models which will inherit the "joy of driving" into the full-fledged electrified future and embody Honda's unalterable sports mindset. The Prelude Concept is a specialty sports model that will offer an exhilarating experience that makes you want to keep going forever.'
Through the four previous generations, the Prelude established a reputation for sophisticated engine and chassis engineering, debuting the world's first mechanical four-wheel steering system and trademarked CVCC combustion technology in the 80s. 
The Prelude was never an out-and-out sports car – there's never been a Type R version – but its keen front-drive chassis and rev-happy four-cylinder engines drew praise in period. By the sounds of it, Honda intends to ratchet the excitement up a notch or two with this potential fifth-generation car, and we're looking forward to the results.